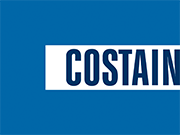 New Civil Engineer and Costain are delighted to announce the launch of the NCE Accelerator, our new collaboration that will create opportunities for small innovative firms to pitch and be heard by major industry clients.
This national competition is seeking the latest engineering innovations and innovative tech solutions.  Specifically, we are looking for SMEs who have bold ideas on how innovation unlocks data through the application of existing technologies.
The NCE Accelerator, powered by Costain, will become another exclusive feature of this year's Festival, where a selection of the most innovative small firms in the UK will pitch to a live audience and mentors as they compete for the Accelerator. 
How to enter
Entries will be accepted online via a simple registration process.  The 500 word submission should focus on how the innovation unlocks data through the application of existing technologies.
The Mentors will look for innovations that:
Use technologies that exist in other sectors or in silos in our industry
Provide much needed measurement of the construction process and health of the asset
Are ready to be trialled in a live environment (on a real site or on real data)
Improve the construction process or offer benefit to end client or end user
Entry deadline is Friday 24 August 2018. Click here to start your entry
Judging Process
The submissions will be judged in late August with the final 5 shortlisted SME's gaining an opportunity to present at NCE's Techfest 2018!
The shortlist will be announced on Monday 3rd September. 
The shortlisted entries will have the opportunity to be mentored by the Costain Accelerator team in preparation for their presentations
At the Festival
The audience will vote along with the judges to decide which of the 5 innovations deserve to be the winner of the NCE/Costain Accelerator Award and will also receive opportunities to showcase their work in more depth to leading clients.
After the event Costain Innovation Accelerator Manager Usman Shah will work closely with the 5 finalists providing specialist accelerator and business mentoring, helping the winner be ready for their deep dive with leading clients and another event where the 4 other shortlisted SMEs will get an opportunity to present their work to clients.
On the day:
16.00 - Costain's approach to driving technology-led innovation 
Darren James, managing director, infrastructure, Costain
16.10 -  NCE Accelerator Pitches
An opportunity to hear from five of the most innovative small firms in the UK competing in this year's Accelerator.
16.50 - Question and answer session